Updated August 18, 2020 1:30 pm MST
Canmore Lodging Company Reservations
With the assurance of flexible cancellation policies, we welcome new reservations for all dates.   Phone 1 (800)563-8764 or book online.
Canmore Lodging Company Hotel Amenities
As of June 9, 2020, the following hotel amenities are open
Bike Rentals are now available from the front desk of the hotel
Pools & Hot Tubs
**The pool and waterslide at Pocaterra Inn is under renovations and will be closed until October, 2020.
Further to AB Health phase 2 update on June 9th
Whirlpools, hot tubs, dry saunas and steam saunas will remain closed until Stage 3.
Hotel, motel, condominium pools, whirlpools, hot tubs, dry saunas and steam saunas will remain closeduntil Stage 3.Unfortunately, our hotel pools will remain closed in accordance with AB Health guidelines.
https://www.alberta.ca/assets/documents/covid-19-relaunch-guidance-swimming-pools-and-whirlpools.pdf
Cancellation and Changes
If you have booked your hotel reservations directly with Banff or Canmore Lodging Company we offer a flexible change and cancellation policy that allows guests confidence in their ability to cancel with minimal penalties right up until the day before your arrival. We plan to monitor and adjust this policy as the market adjusts to travel recommendations. As always, we will consider any request for special consideration for cancellations that fall within our policy on a case by case basis.
Direct, Individual bookings
Travel August 1, 2020 and beyond
Cancel before 4:00pm up to 3 days (72 hrs) prior to your arrival date without penalty.
Cancellations made within 72 hours of your arrival date will be charged the first night room rate plus taxes
Travel during the Holiday season, December 20 to January 3
Subject to original holiday season cancellation policies as outlined on confirmations.
If you have booked your reservation with a 3rd party business such as a tour operator of online booking agent, you may be subject to different change or cancellation fees imposed by that booking agent. The Banff Lodging Company will extend our flexible cancellation policy to our booking partners, but it is their discretion to pass that experience to their guests.
Services in Canmore
Visit https://visitdowntowncanmore.com/ for a listing of businesses and services open in Canmore
Alberta Parks Trails & Hiking Updates
https://www.albertaparks.ca/parks/kananaskis/kananaskis-country/advisories-public-safety/trail-reports/canmore-and-area/
Information about Roam Transit – municipal and regional transit service
Services in Banff
Temporary Mask Bylaw – Canmore
All indoor public spaces in Canmore. This includes all indoor hotel public spaces (lobbies, corridors etc.), restaurants when not seated at a table. Details can be found online: canmore.ca/covid-19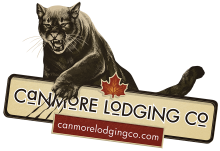 CANMORE LODGING COMPANY
Local: (403) 762-2642
Toll Free: 1(800) 563-8764
228 Bear Street, Suite 300
PO Box 1070
Banff, AB, T1L 1H8
Canada
Office Hours: Mon - Fri
9:00 am - 5:00 pm