Updated June 30, 2021 2:10 pm MDT
Canmore Lodging Company Reservations
With the assurance of flexible cancellation policies, we welcome new reservations for all dates.   Phone 1 (800)665-6111 or book online.
July 1, 2021
Alberta's Open for Summer progresses to Stage 3.  alberta.ca/enhanced-public-health-measures.aspx

Canmore Lodging Company recognizes that the July 1st easing of COVID-19 restrictions will be met with different levels of acceptance among our guests, employees and residents. We are prepared to respond to guest needs and levels of comfort as required, while continuing to follow provincial guidelines.
Canmore hotels are open for reservations and ready to welcome visitors!
Safe travel guidelines remain in place with sanitization stations, front desk plexiglass barriers and limited employee access to guestrooms remaining in place.
Restaurants
Are open for dine-in, patio seating and take-out.
Some restaurants may keep a level of distancing protocol and masking in place.
banfflodgingco.com/restaurants
Pools, Hot Tubs, Saunas and Fitness Rooms are open to guests without restrictions.
Spas are open for treatment bookings.
Plexiglass barriers and some masking will remain in place.
Plan Ahead
As Banff becomes a more pedestrian and cycle friendly destination, and Lake Louise implements a parking management plan, the best way to experience Banff National Park will be to plan ahead!
Visit explorethepark.ca for up to date information on parking, transit, access and shuttles to Lake Louise and Moraine Lake, and the best ways to explore without your vehicle.
Town of Banff Mask Bylaw has been removed:
On the morning of June 30, Town of Banff Council voted to align covid guidelines with the province of Alberta.
Effective immediately, masks are no longer required in any outdoor areas in Banff.
Effective midnight on July 1st, masks are no longer required in public indoor spaces, including workplaces in Banff, and throughout Alberta.
There are some exceptions to this requirement including taxis and busses.
Private businesses and public buildings may implement their own masking policies.
Our Safecation Commitment
SAFECATION commitment is to lead with hospitality practices that ensure the safety of our guests, our employees, and our community.
While travel may look different, what remains the same for Banff Lodging Company is our friendly, welcoming staff who are committed to providing comfortable, safe and engaging visitor experiences.
Enhanced measures to ensure your travel safety
Training & Employees
Heightened cleaning and physical distancing protocols
Enhanced Employee Health Training and expectations, mandatory training before return-to-work begins
PPE protocol standardized across all departments
Public Spaces
Installation of plexiglass barriers and hand sanitization stations in high use areas
Enhanced, scheduled cleaning and disinfecting on high touch surfaces and public areas
Physical distancing renovation to public areas and restaurants
Guestroom Standards
Minimized high touch room amenities such as guest directories, magazines
No-contact arrival and departure
Canmore Lodging Co adheres to Alberta Health Services guidelines as our governing agency for covid-safe protocols, and go above and beyond when possible.
Services in Canmore
Visit https://visitdowntowncanmore.com/ for a listing of businesses and services open in Canmore
Alberta Parks Trails & Hiking Updates
https://www.albertaparks.ca/parks/kananaskis/kananaskis-country/advisories-public-safety/trail-reports/canmore-and-area/
Information about Roam Transit – municipal and regional transit service
Services in Banff
Temporary Mask Bylaw – Canmore
All indoor public spaces in Canmore. This includes all indoor hotel public spaces (lobbies, corridors etc.), restaurants when not seated at a table. Details can be found online: canmore.ca/covid-19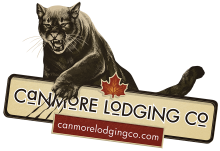 CANMORE LODGING COMPANY
Local: (403) 762-2642
Toll Free: 1(800) 563-8764
228 Bear Street, Suite 300
PO Box 1070
Banff, AB, T1L 1H8
Canada
Office Hours: Mon - Fri
9:00 am - 5:00 pm