Updated April 8, 2021 12:10 pm MDT
Canmore Lodging Company Reservations
With the assurance of flexible cancellation policies, we welcome new reservations for all dates.   Phone 1 (800)665-6111 or book online.
April 6th, 2021
On Tuesday, April 6th, the Province of Alberta mandated stronger public health measures in Alberta, in place until further notice.
See details here:  alberta.ca/enhanced-public-health-measures.aspx
Prior to visiting Canmore, please make yourself aware of the provincial measures in place.
Canmore Lodging Co hotels, and condominiums remain open as an essential service for travelers, out of town workers, and residents requiring alternative housing.
Restaurants are open for take-out and outdoor patio seating.
Meadow Spa & Pools and Red Earth Spa in Banff are open by appointment
Pools, Hot Tubs, Saunas, Fitness Rooms
On April 9th, our pools and hot tubs were permitted to open with strict provincial capacity restrictions in place. This will make it difficult to accommodate every guest group when our hotels are busy. We cannot guarantee that every guest group will have access to our pools/hot pools! We will use an appointment system with scheduled time slots for cohort groups. Pool and hot pool bookings will be made on a same-day basis, in person through the front desk; information will be provided upon check-in at your hotel. Pool and hot pool use is subject to change at any time, including last minute closure of any amenity. It is not an ideal situation but we will do our best to adapt and accommodate as many people as possible!
Alberta Health Services                     alberta.ca/enhanced-public-health-measures.aspx   
Banff/Lake Louise information          banfflakelouise.com/travel-information
Banff National Park               www.pc.gc.ca/en/pn-np/ab/banff/visit/covid-19-info
Hotel and Condo Accommodations
The province has mandated that no social gatherings shall occur, in any setting, including private homes or public spaces. This includes hotel rooms and condominiums.
Indoor close contacts must be limited to people from the same household.
Outdoor social gatherings are limited.
The mask bylaw remains in place for all indoor spaces, and also in designated outdoor spaces in Banff's downtown core.
See Banff details here:  www.banff.ca/COVID
See Canmore details here:  www.canmore.ca/COVID-19
Restaurants
Restaurants are now offering take-out and outdoor patio seating.
Retail, Attractions, and Other Services
Retail businesses remain open with reduced capacity to 15% occupancy.
Calling a business ahead to understand hours of operation and unique protocols in advance is recommended.
For more information, please reference:
alberta.ca/enhanced-public-health-measures.aspx
banff.ca/COVID
banfflakelouise.com/travel-information
www.pc.gc.ca/en/pn-np/ab/banff/visit/covid-19-info
Our Safecation Commitment
SAFECATION commitment is to lead with hospitality practices that ensure the safety of our guests, our employees, and our community.
While travel may look different, what remains the same for Banff Lodging Company is our friendly, welcoming staff who are committed to providing comfortable, safe and engaging visitor experiences.
Enhanced measures to ensure your travel safety
Training & Employees
Heightened cleaning and physical distancing protocols
Enhanced Employee Health Training and expectations, mandatory training before return-to-work begins
PPE protocol standardized across all departments
Public Spaces
Installation of plexiglass barriers and hand sanitization stations in high use areas
Enhanced, scheduled cleaning and disinfecting on high touch surfaces and public areas
Physical distancing renovation to public areas and restaurants
Guestroom Standards
Minimized high touch room amenities such as guest directories, magazines
No-contact arrival and departure
Canmore Lodging Co adheres to Alberta Health Services guidelines as our governing agency for covid-safe protocols, and go above and beyond when possible.
Services in Canmore
Visit https://visitdowntowncanmore.com/ for a listing of businesses and services open in Canmore
Alberta Parks Trails & Hiking Updates
https://www.albertaparks.ca/parks/kananaskis/kananaskis-country/advisories-public-safety/trail-reports/canmore-and-area/
Information about Roam Transit – municipal and regional transit service
Services in Banff
Temporary Mask Bylaw – Canmore
All indoor public spaces in Canmore. This includes all indoor hotel public spaces (lobbies, corridors etc.), restaurants when not seated at a table. Details can be found online: canmore.ca/covid-19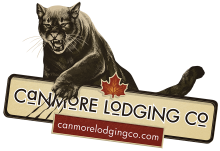 CANMORE LODGING COMPANY
Local: (403) 762-2642
Toll Free: 1(800) 563-8764
228 Bear Street, Suite 300
PO Box 1070
Banff, AB, T1L 1H8
Canada
Office Hours: Mon - Fri
9:00 am - 5:00 pm