Updated September 20, 2021
Canmore Lodging Company Reservations
With the assurance of flexible cancellation policies, we welcome new reservations for all dates.   Phone 1 (800)665-6111 or book online.
COVID 19 Update
February 14, 2022
As of February 14, 2022, we have the following updates as we move away from the peak of the pandemic.
In accordance with AB Health guidelines, restrictions will be easing over the next month.
We continue to encourage guests to plan before travel, especially for making reservations for dinner and activities in advance.
Canmore Hotels
Canmore hotels are open for reservations and welcoming visitors!
Proof of vaccination is not required to stay at our hotels.

Restaurants 
Effective February 12, 2022, all Banff Lodging Company restaurants are open and welcoming all guests.
We are not checking vaccination status at our restaurants.
Takeout service is also available for all guests.
banfflodgingco.com/restaurants

Pools, Hot Tubs, Saunas
Effective February 12, 2022, our pools, hot tubs, waterslides and saunas are open and welcome for all guests.
Spas
Spas are open for treatment bookings.
Alberta Mask Bylaw
We anticipate that the indoor mask bylaw will be eliminated as of March 1, 2022.
Check back for updates.
https://www.alberta.ca/covid-19-public-health-actions.aspx
Our Safecation Commitment
SAFECATION commitment is to lead with hospitality practices that ensure the safety of our guests, our employees, and our community.
While travel may look different, what remains the same for Banff Lodging Company is our friendly, welcoming staff who are committed to providing comfortable, safe and engaging visitor experiences.
Enhanced measures to ensure your travel safety
Training & Employees
Heightened cleaning and physical distancing protocols
Enhanced Employee Health Training and expectations, mandatory training before return-to-work begins
PPE protocol standardized across all departments
Public Spaces
Installation of plexiglass barriers and hand sanitization stations in high use areas
Enhanced, scheduled cleaning and disinfecting on high touch surfaces and public areas
Physical distancing renovation to public areas and restaurants
Guestroom Standards
Minimized high touch room amenities such as guest directories, magazines
No-contact arrival and departure
Canmore Lodging Co adheres to Alberta Health Services guidelines as our governing agency for covid-safe protocols, and go above and beyond when possible.
Services in Canmore
Visit https://visitdowntowncanmore.com/ for a listing of businesses and services open in Canmore
Alberta Parks Trails & Hiking Updates
https://www.albertaparks.ca/parks/kananaskis/kananaskis-country/advisories-public-safety/trail-reports/canmore-and-area/
Information about Roam Transit – municipal and regional transit service
Services in Banff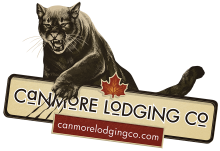 CANMORE LODGING COMPANY
Local: (403) 762-2642
Toll Free: 1(800) 563-8764
228 Bear Street, Suite 300
PO Box 1070
Banff, AB, T1L 1H8
Canada
Office Hours: Mon - Fri
9:00 am - 5:00 pm